Support the Ecole Camondo's educational program by allocating it your apprenticeship tax
The apprenticeship tax is vital to the school.  This is the only tax that you are free to allocate. It's a choice that plays an essential role in ensuring that the training and business environment is regularly updated and constantly evolving. We will accompany you in this voluntary process. Thank you for your attention and for your support.
René-Jacques Mayer - Directeur de l'école Camondo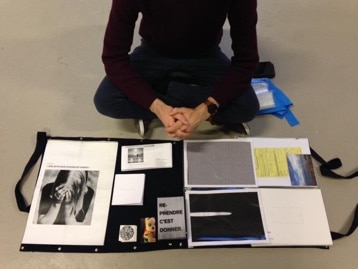 Un impôt dont vous chosissez l'affectation
Choisissez un organisme collecteur .  Mentionnez :
« École Camondo – Les Arts Décoratifs » N° d'UAI  : 075018ZZ dans la rubrique « versement aux écoles » du formulaire de cet OCTA.
Indiquez « maximum catégorie B ».
Contact : Édith Chabre
Recruter
Une interface dédiée pour puiser dans  les ressources vives de l'école.
Stages : la scolarité comporte deux stages obligatoires, en fin de 3e année (deux mois minimum) et en fin  de 5e année (quatre mois minimum).
Diplômés : un réseau de près de 1 000 diplômés, travailleurs indépendants, salariés ou gérants de sociétés, reçoit les offres d'emploi et les informations sur l'actualité de l'école.
Contact : Élodie Roi
Participer à la pédagogie
En devenant partenaire exclusif d'un workshop (analyse, réflexion, production) mené par des enseignants tous  professionnels, dans tous les niveaux d'études (1er et 2e cycle), pendant un temps donné. Les entreprises qui attribuent leur taxe d'apprentissage à l'école peuvent proposer en priorité des partenariats sur des sujets prospectifs.
Contact : Alexis Markovics
Être au cœur de la vie de l'école Camondo et des Arts Décoratifs
Invitation à la cérémonie de remise des diplômes et visite de l'exposition avec le directeur et l'équipe pédagogique.
Accès prioritaire aux séances  du séminaire de recherche de l'école « Ambiance pour habiter ».
Invitation pour deux personnes à chaque vernissage d'expositions des musées des Arts Décoratifs.
Accès au centre de ressources de l'école Camondo (sur place et en ligne).
Invitation aux expositions et conférences organisées dans l'école et hors ses murs.
Publication des versants sur le site internet de l'école.
Un très grand merci pour votre participation en 2016.
7 Lieues, A Co Design, A3 Atelier, Agasse Architecte, AGECOM, Agence 14 Septembre, Agence 14 Septembre , Grand Sud, Agence A.D.A., Agence Ah !, Agence Auvray, Agence Diot Clément, Agence Lieu-Dit, Agence Patrick Jouin, AMORIS-MDP, Arc Holdings, Arc International
ARCAD, Architecture Frédéric Lebard, Armtop, Arte Charpentier Architectes, Artefact Décoration, Artémis, Arteum, Arteum Services, Arts Square / La Capucine Giverny, Asplef, Bailly Monthury, BEDEC, BETC Absolut Reality, Blue Factory, Boffi Bains Paris, Boudah'Art, Brunswick Group, Bulle d'Air, Ca & Co, Hôtels Campanile, Canal Architecture, Cape Nord, Carrefour, Catherine Guégan, Centre Les Broussailles, Charles Zana Architecture, Clinique d'Amade, Courrèges, Cuisines Rabineau, Dedar, Bois, Didier Aaron & cie, Domaine de Courson, Double 2, Dugama Diffusion, Duplicatis, EBH 2001, EBTM, Édipost, Éditions Sorman, Eligest, Éliotrope, ENFIN, Ersa, Ersa & l'Île de France Immobilière, Erval, Espace au carré, Ets Picard Entrepôts
du Cygne d'Enghien, Evidence RH, Exalto, Fermob, Florence Clausel - Borel Architecte dplg, FR 66, Fresh architecture, Futurotel, G.B.R.H, G.P.B.L, Galerie du Passage, Galerie Joseph Karam, Galerie NeC nilsson et chiglien, Galerie Sarti, Galerie Yvon Lambert, Groupe BCA, Groupe Solanet, Handra, Hermès International, Hermès Sellier, HMC, Holding neuvessel, Hôtel Grill, Hôtels Première Classe, HPSC, I2H, Imhotep, Imprimerie Moutot, India Mahdavi, Interscène, Invest Hôtel, IRR France, J.Etchepare Tricotage Toulousain, Jacques Grange, Jardiland Enseignes, Jardins du Vexin, JCT Haute couture Interiors, Jean de Piépape Design, Jean-Baptiste Sibertin-Blanc, JLS Bureautique, JM Conseil, Joinct Papeterie Librairie, Kevin Velghe Architecte, Knoll International, Hôtels Kyriad, L.E.M Projects, L.V.S.D., L'association D'Days, Banque Populaire , Rive de Paris, La Boite A, La Caisse d'Epargne IDF, La Maison des bonbons, La Pyramide, La Tonnelle, Lazard Frères, Le Castel, Les Arts Décoratifs, Les Jardins d'Astrée, Les Nouvelles Corderies, LFG-Courtage, Librairie Galignani, Ligne Roset, M.O.H.A., MACtac France, Matchbox, Mathilde Bretillot Créations, Mattia Bonetti, ML Participations, Mobydoc, MOTEAM, MSP Conception, Multimédia Diffusion, NAHK, Nexity, Nord Facade, Now And Net, Pablo Katz Architecture, Parallel Architecture, Patrice Manquillet, Patrice Nourissat, PH2B, Pharmacie Boissière, Philippe Roux - Architecte, Philippe Villin Conseil, Pierre Frey, Placages André, Plexicom, Pralines et Chocolats, Presence Assistance Tourisme, Provintech, Raphael Bouchemousse, RCP Design Global, RDAI, Résidence L'Hexagone, Résidence
Les Bougainvillées, Restaurant Coco Beach, Richard (Ets), Rocabella, Roche Bobois, Safi, Saint Gobain, SAM / MAU / architecture, Samsic La Providence, Sas Experts et Commissaires, Satchel Consulting, Secap Pitney Bowes, Securitas Alert Services, Sentou, Societe CH Faconnage, Société Financière, de Passementerie, Societe Up !, Sociétés Gras Savoye, Sociétés Tampigny, Sodinvest, SOFEC, Starelec, Studio Éponyme, Studio Putman, T.P.R.C, T.P.R.C Nord Est, T.P.R.C Sud Est, T.P.R.C Sud Ouest, Talent and Partner, Tectona, Thema Architecture, Thouvenin & Véronique, Traits d'Union, Tukana Architecture, UBIK - Philippe Starck, Une Fabrique de la Ville, USM, Views Architecture  Intérieure, VIT'REPRO, Vitra, Volume International, Ymer & Malta …